Current Events
Wednesday, June 22, 2022 @ 7-9pm PST
Honouring the Father-Daughter Relationship: Spiritual Care Circle for Women [In-Person]
Canadian Memorial United Church & Centre for Peace
1825 W. 16th Ave (at Burrard), Vancouver BC
A one-time event commemorating Father's Day, as a companion experience to the best-selling collaborative book, Family Tree: Embracing Your Father-Daughter Roots for Forgiveness, Fulfillment and Freedom by Rebecca Harrison and 10 co-authors
Whether you were "daddy's little girl" and had a loving, adoring relationship with your father, or you grew up with a challenging father relationship, or you were fatherless altogether – or anything in between – we all carry a unique father-daughter story.
Fatherhood is a foundational relationship just as crucial to a child's development and well-being as motherhood. Especially for girls, neuroscience has shown that the father-daughter relationship is one that sets up the blueprint for how safe, secure, supported and successful she feels in the world as.
This women-only spiritual care circle is designed to be a safe and supportive space for to explore how your father-daughter relationship has shaped who you are today. The experience will include time for centering meditation, authentic sharing, reading and reflection and spiritual accompaniment.
Discover the places in yourself that may need tender loving care and attention in order to catapult you to the next level of becoming the woman you were born to be.
Open to all women, including self-identifying womxn, especially BI&WoC members of non-binary, femme, transgender and LGBTQIA++ communities, as well as those not affiliated with the church or any faith organization.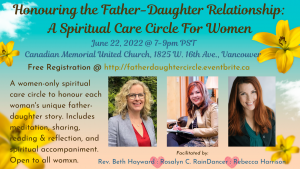 Past Events
May 3-8, 2022
THE WHEEL OF SUCCESS SUMMIT
The Wheel of Success Summit is a holistic business & leadership conference for heart-based entrepreneurs to grow their dream business.
This week-long online event is for visionary leaders, BIPOC entrepreneurs and changemakers to learn from 20+ speakers & panelists.
Special features include a wellness hour, family circle, business support group, networking session and more.
It's free to register and participate. For more information and to register, go to http://www.wheelofsuccess.ca
***
Thursday, March 31, 2022 , 2:00pm PST by Zoom 
Gather and get to know each other in a safe(r), supportive and de-colonized space where you can bring your whole self to the table, where your identity and your story matters.
A non-traditional space where BIPOC (Black, Indigenous, People of Colour) entrepreneurs and executives are serious about business, and care just as much about the people and relationships behind them.
The second of a 3-part series, you will learn and practice a de-colonized way of introducing yourself and your business that honours your identit(ies), values and lived experiences.
Are you tired of the same old, same old networking events where:
❌ The thought of attending a 'networking' event makes you nervous and unsure
❌ Questions like "What do you do?" or "What business are you in?" dominate the conversation
❌ Participants lead with a canned 'elevator pitch'
❌ The process of introducing yourself is limited to 30 seconds to 1-2 minutes
❌ You check the Zoom chat and there is a 'waterfall' of written elevator pitches, random offers and short ads that are out of context
❌ When you look at the Zoom room, you see a bunch of 'talking heads' where words and verbal expression dominate
❌ You leave wondering whether you were seen and heard at all
In this Non-Traditional Networking space:
✔️ We want to know who you are including all your names, where you have lived and why you've joined the gathering
✔️ We acknowledge that you've joined not just as yourself but as part of your family, community and ancestors, as well as your business or workplace community
✔️ You don't need a prepared 'elevator pitch' nor will we ask you to come up with one
✔️ Diverse greetings and expressions other than English are welcomed and encouraged; we centre lived experiences from other parts of the world besides North America or Western Europe
✔️ You will be asked to share your business or leadership story in other ways besides words
✔️ We engage with our whole self ~ mind, body and spirit, with plenty of time to share
✔️ We focus on building relationships based on authentic connections, shared values and cross-cultural intelligence
It is FREE to join and participate. We ask that you register in advance so that you can receive the Zoom link and we can prepare to welcome you.
Donations are welcomed to support the Host and her team in creating accessible events and workshops for the community. Suggested donation $10 per session.
For More Information & To Register:
http://bipocnetworking2.eventbrite.ca
***
Thursday, November 11, 2021 , 11:00am-8:00pm PST by Zoom & optional in-person networking
The Wheel of Sustainable Success™ Workshop + Daytreat 
A radical new framework for redefining what success looks and feels like
If there is one thing we have learned in the past 18 months, it's that life and "business as usual" was long overdue for serious questioning and radical re-imagining.
The enormity of change and intensity of upheaval catalyzed by the Covid-19 has been forever imprinted in our individual and collective psyche. Not a soul has been spared.
Nearly all businesses have had to undergo some form of unraveling and restructuring as they navigate "pivot after pivot" that was the year and a half.
Now that 2021 is coming to a close, here's your invitation (and for some, answered prayer) to learn a new framework for sustainable success and stand on a stronger foundation as we look ahead into 2022.
Join a diverse and inspiring community of heart-centred and high-achieving leaders, founders, entrepreneurs & executives for a rare, one-time 1-Day Workshop & Daytreat during the intentional pause (national holiday of Remembrance Day) on November 11, 2021.
Designed as a business/career retreat that can be done from the comfort of your home (with an optional in-person activity), it provides a balance of:
~ Teaching, training and coaching for a sustainable mindset & resilient leadership during times of rapid change and transition
~ A practical mastermind process where you can share your celebrations and challenges from the past year, and/or strategize the year ahead, and receive ideas, input and feedback from your like-minded colleagues
~ A delightfully fun & meaningful in-person networking with yummy eats & bevies (optional)
~ A nourishing evening dream circle to discover how to tap into your right-brain, intuitive and creative self speaking to you through the language of dreams. Learn basic dreamwork practices for clear connection to your inner wisdom, generate greater flow, and guide key business decisions
What is The Wheel of Sustainable Success™?
• A holistic and integrated framework for Spirit-led and sustainable success in business and leadership that balances soul and strategy and that flows and fits with your natural seasons and rhythms
• Re-defines success in terms of fulfillment of soul purpose, financial abundance, personal sustainability and social impact
• Allows space and fluidity for both growth, gestation and transition, beginnings and endings
• Based on the Indigenous system of health and healing, living and dying called The Medicine Wheel. Each quadrant represents a direction (North, South, East, West), corresponding four elements (Earth, Water, Air, Fire), a foundational pillar (Soul, Strategy, Surrender, Systems) along with an affirmation of core principles and practices.
Tickets
Starts at:
$55 Online Workshops
$60 High-Tea Afternoon Networking
For more information & To Register:
http://wheelofsuccessworkshop.eventbrite.ca
***
Thursday, June 24, 2021 , 11-12:30pm or 5-6:30pm PST by Zoom
How to Create & Run Mastermind for Business & Career Success
In this practical and interactive workshop, you will learn my top tips and best practices for mastermind groups from 20 years of visionary transformational leadership & social entrepreneurship + 8 years of masterminding.
It has not only resulted in real business (in tens of thousands of dollars), but also long-lasting relationships and incredible learning and collaboration opportunities.
This 90-minute workshop includes:
~ 20 minutes of teaching
~ 30 minutes of mini-mastermind session for you to experience the format with groups of 4
~ built-in networking
~ a follow-up Q&A and bonus spot coaching
What is a Mastermind?
A mastermind is a structured and consistent peer-to-peer business/career support group or advisory board in which a group of minimum 4 committed leaders/professionals or entrepreneurs get together on a regular basis to share challenges and receive input and advice.
Let's face it ~ entrepreneurship can be a lonely journey and very few people understand the ups and downs unless they are one themselves.
So masterminds are a valuable source of support, understanding, inspiration, resource-sharing and accountability.
What You Will Get from the Mastermind Experience
• A confidential space to discuss challenges and problems with people who actually "get" what you're going through
• Come across ideas and solutions that you would not have found by yourself, and challenge yourself to grow to the next level in your business
• Learn from others' skills and experiences and expand your own knowledge; likewise, share your own expertise, practice or experiment with new business ideas with your peers
• Be held accountable to your action steps (especially those that are outside your comfort zone) so that you are more committed to your goals as you openly share them with your peers
• Long-term friendships and connections ~ a trusted group of people who are always willing to help you; they "have your back" so you feel less alone and isolated
***
Thursday, March 18, 2021 , 7-8:30pm PST by Zoom
Discovering the Spirit in All Things ~ Introducing the digital art of Cheryl Baker and Jennifer Sonier of Raven Obsidian Creations
Join Cheryl Baker (Artist) & Rosalyn C. RainDancer (Host) to discover the sacred language of Nature.
See Art as a gift for mindfulness and meditation, calm and connection, as well as a healing and intuitive guidance in these often stressful and uncertain times.
Let's celebrate the launch of Raven Obsidian Creations (est. Nov 2020) which showcases art created by capturing the magical essence of Nature through photography, then digitally transforms the images to reveal the emerging Sentient Beings & Abstracts within.
Cheryl will share her story of growing up in Williams Lake and finding solace and connection in nature. While raising her children, working part time, and going to University to get her Degree, she found the moments she had to create art gave her the strength to do it all. With the encouragement of her husband, three sons, and her daughter, Cheryl discovered her passion is to create art which led her to start her business, Raven Obsidian Creations.
***
January 29, 2021 @ 12-2pm PST
Who (Re)Moved My Mask? : Business As 'Unusual' in a Post-COVID World
A Community Gathering, Leadership Inquiry & (Re)Birthing Ceremony
Invitation
For the first time in two years, I am opening space for professionals, executives, founders, entrepreneurs, coaches, changemakers, healers, visionaries, wayshowers, faith- and wisdom-keepers, lightworkers, and really—any leader who gives a hoot—to deep dive into real and revealing conversations around:"What the heck just happened in 2020?" and "What now?" and "Where are we going?"
Bring your business and life-related burning questions, daunting challenges, torn-in-two inner (or outer) conflicts, what feels hard and beautiful at the same time… and yes, even and especially those truths, questions, ponderings and whispers that you can barely admit to yourself.
Now more than ever, it's important for us to gather, even if it is through the flicker of the screens of technology, to connect in community and be in ceremony together.
***
February 24, 2021 @ 10-11am PST
Dec 15, 2020 @ 10-11am PST
(Private Workshops @ YWCA/YMCA)
Creative Career Making: Designing Your Unique Path to Thrive in the Gig Economy 
What a year 2020 has been… and it's not over yet! The COVID-19 pandemic has triggered the biggest work-from-home experiment to date, keeping people homebound for months. It's not likely to change any time soon. 
The "gig economy" characterized by project-based, contract, temporary, part-time, on-call, casual or freelance work has always existed. The term was coined by former New Yorker editor Tina Brown in 2009. Over the past decade, the gig economy has ballooned with the rise of the digital marketplace. The year 2020 has accelerated this reality now that we increasingly rely on digital platforms to function in both our professional and personal lives. 
You could say that gig economy is now the "new normal".
This workshop will cover the 3 keys to designing your unique career path to thrive in the gig economy:
How to embrace job/career transitions and develop a new relationship with uncertainty

The number one currency in a competitive job marketplace that almost nobody talks about, and how you can get noticed and stand out

Practical tips on how to spend your time, money and energy wisely both when you are 'gainfully employed' and when you are 'in between' gigs so that you can design a sustainable career path that you love
Our time will be shared between 20 minutes of teaching, 10 minutes of self-reflective exercise, and 20-30 minutes of Q&A and 'hotseat' coaching for 1-2 brave souls.
June 21, 2020 @ ~ 1-2:30pm PST
The Father-Daughter Bond: A Companion Workshop to Family Tree: Embracing Your Father-Daughter Roots
About the Book
Family Tree: Embracing Your Father-Daughter Roots for Forgiveness, Fulfillment and Freedom by Rebecca Harrison (and 10 co-authors)
The relationship between a young girl and her father is one that impacts her entire life. When fathers consciously encourage and protect their daughters, strong women will flourish. Unfortunately, not every father-daughter relationship follows this path, and many of us are left with wounds that take many years and a lot of self-work to heal.Three fathers and eight daughters have come together to illuminate the importance of this early bond, offer hope for women and men who are healing this relationship, and show what is possible when a conscious father lays a foundation that allows his girls to shine. Immerse yourself in these empowering stories and discover your own pathway to healing and peace.
About the Workshop
(For Women and Girls Age 12+)
Whether you were "daddy's little girl" and had a loving, adoring relationship with your father, or you grew up with a challenging father relationship, or you were fatherless altogether – or anything in between – we all carry a unique father-daughter story.
As a society, we must recognize fatherhood as an essential relationship just as crucial to a child's development and well-being as motherhood. Especially for girls, science has shown that the father-daughter relationship is one that sets up the blueprint for how safe, secure, supported and successful she feels in the world.
This workshop is designed for the conscious empowered woman who wants to explore how her father-daughter relationship has shaped who she is today, and discover the places in herself that may need tender loving care and attention in order to catapult her to the next level of becoming the woman she was born to be.